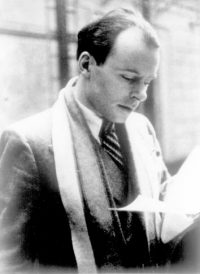 Mann, Klaus, "Fluch und Segen". Fragment of a cantata written in exile. Edited by Uwe Naumann. 4°. Cloth bound. 64 pages with frontispiece by Inge Jastram and 27 pages handwriting in facsimile.
Typesetting in the Humnaist 521 BT and typographical lay-out by the publishing house. Reproduction of the manuscripts, printing on 170 g Spezial-Offset Perlweiss by Geese and bookbinding by Offizin Chr. Scheufele, Stuttgart.
---
Around New Year 1935 Klaus Mann was working in the dutch exile on a large mankind-cantata, which remained fragmentary. The idea came from great german actress Therese Giehse, who played in Klaus and Erika Manns cabaret "Die Pfeffermühle". The Edition Frank Albrecht publishes this text from the estate now for the first time. The volume shows the 27 pages of the original manuscript in facsimile and the transcription of the text. This first edition is limited to 300 copies.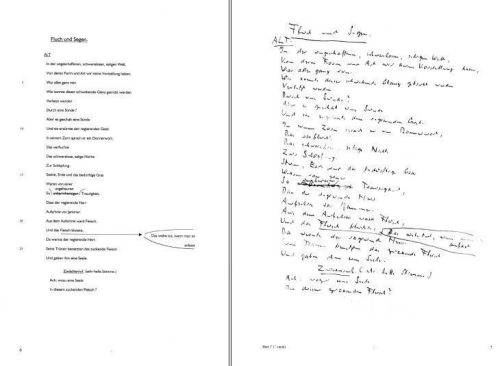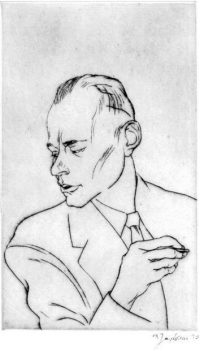 The bookillustrator and graphic artist Inge Jastram produced a series of three original-etchings with portraits of Klaus Mann for this volume.

The etched portrait on the left comes with the choice edition.

The two other etchings underneath are printed in 20 copies each. The are offered separately.
---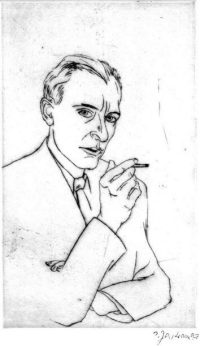 Portrait II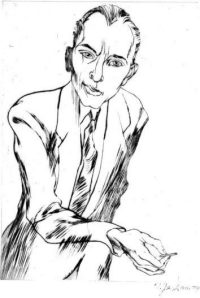 Portrait III
Klaus Mann, "Fluch und Segen". With frontispiece by Inge Jastram und 27 pages handwriting in facsimile. Large format. Schriesheim, Edition Frank Albrecht, 1997.
Choice edition with an numbered and signed Original-Etching by Inge Jastram. Limited to 50 copies, numbered from I to L. – ISBN 3-926360-14-3 Euro 175,-
Standard edition. A250 copies numbered arabicly. – ISBN 3-926360-13-5 Euro 60,-
Portraitetchings of Klaus Manns by Inge Jastram. Imagesize each ca. 23 x 16 cm. 20 copies, numbered and signed. Euro 140,-
© by Edition and Rare Bookstore Frank Albrecht | Imprint