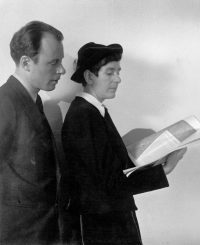 Mann, Klaus, "Gedichte und Chansons" [Songs and poems]. Edited by Uwe Naumann and Fredric Kroll. Mit etchings by Inge Jastram. 4°. Halfcalf or clothbound. 125 pages with 18 original-etchings respectively 108 pages with reproductions of the illustrations.
---
Typesetting out of the Humanist 521 BT und typographical layout by the publisher. The coldstylus-etchings are made by Inge Jastram, Kneese, Germany. Printing of the standard edition on 170 g Spezial-Offsett Perlweiss from Geese, reproduction of the graphics and binding by Offizin Chr. Scheufele, Stuttgart, Germany. Printing of the choice editions on Römerturm 250 g Altmainz glatt by the Offizin Chr. Scheufele, Stuttgart. Printing of the original-graphics by Ernst Lau, Neukäterhagen, Germany. Handbound by Thomas Zwang, Hamburg, Germany.
For his novel "Mephisto" Klaus Mann is famous all over the world. That he wrote a couple of songs and lyrics beside it is mostly unknown. For the first time this volume collects all known lyrical works of Klaus Mann, some of the poems are published here for the first time. Starting with his first humorous lyrics as the six year old son of Thomas Mann the spread reaches up to the sarcastical texts for the cabaret "Die Pfeffermühle" of his sister Erika, written in exile from germany. The volume closes with an autobiographical essay by Klaus Mann written in 1938.

The artist Inge Jastram has produced a series of 18 illustrations for this volume, which impressive mirror the spirit of the Weimarer Republic and the years of exile.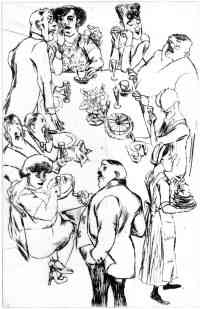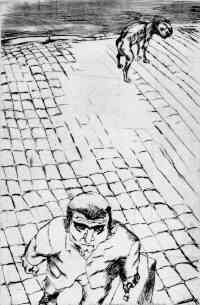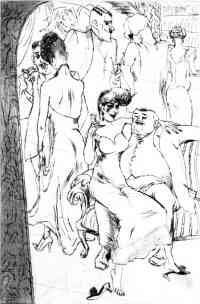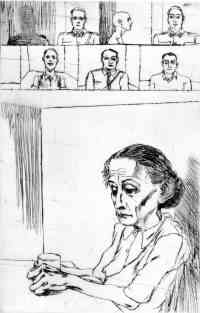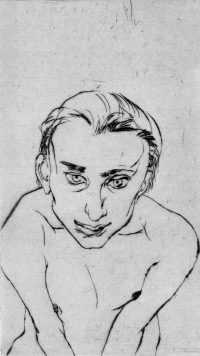 DAS

Man wartet immer, dass DAS sich entscheidet,
Und niemand weiss eigentlich, – was.
Es ist eben das, woran die Welt leidet,
Es ist eben das; es ist immer – DAS.

Der Geschäftsmann müsste etwas bezahlen,
Aber er sagt: »Nein, ich warte noch.
Ich warte lieber bis nach den Wahlen,
I r g e n d w i e ändern muss es sich doch.«

Der Jüngling soll seinen Antrag machen,
Aber er findet es noch zu früh.
»Es schweben da noch so historische Sachen –
Ich warte noch ab – denn man weiss doch jetzt nie – «

Inzwischen ist das Kind schon geboren, –
Die historische Stunde war noch immer nicht da – .
Der Jüngling hat seine Stellung verloren
Und fühlt sich zum zweiten Male Papa.

Wozu das Kind in die Schule schicken?
Ob morgen noch gilt, was es heute dort lernt?
Ob in Jahrzehnten oder in Augenblicken,
Ob in nächster Nähe oder entfernt:

Mit einer Entscheidung muss es doch enden,
Denn DAS kann doch nicht ewig so weitergehn,
Das muss sich doch einmal erstaunlich wenden,
Das wäre noch schöner, man wird ja da sehn.

Nicht auszurechnen, was wir bis dahin versäumen –
In Erwartung der Wahlen, in Erwartung des Kriegs –
Wir rechnen und grübeln und schwätzen und träumen:
Na, wer hat nun die grösste Chance des Siegs?

Wird's Kapitalismus, wird's Kommunismus?
Eh ich das nächste Mal zum Zahnarzt geh',
Muss es entschieden sein – es muss – muss!! –
Weil ich sonst einfach nicht zum Zahnarzt geh!

Wie lange foppt uns diese Dauerkrise?
Das ist ihr Wesen: sie entscheidet – : Nichts.
Siegt das Entsetzliche? Siegt nur das Miese?
Gibt sie's am Ende doch, die Macht des Lichts?

Gewisse Dinge, die noch immer schweben –
Und keiner weiss genau ihr Wie und Was – :
Die möchte ich doch lieber nicht erleben;
Denn was wird es schon sein, das grosse DAS?
---
---
Klaus Mann, Gedichte und Chansons [Songs and lyrics]. Edited by Uwe Naumann and Fredric Kroll. With etchings by Inge Jastram. Large Format. Schriesheim, Edition Frank Albrecht, 1999.
Standard edition in 350 copies. 4°. Clothbound. 108 pages with reproductions of the etchings. Printed on 170 g Spezial-Offset. – ISBN 3-926360-15-1 Euro 75,-
Choice editions A, B and C 4°. Handbound halfcalf by Thomas Zwang, Hamburg. 128 pages with 18 original-etchings by Inge Jastram, printed from 20 plates by Ernst Lau, Neukäterhagen (Germany), on Römerturm 250 g Altmainz, glatt. – ISBN 3-926360-16-X
Choice edition "A" in 5 copies with an additional original-typewritten song by Klaus Mann, reprinted in this book. sold out
Choice edition "B" in 5 copies bound with an original-handwritten letter by Klaus Mann. sold out
Choice edition "C" in 20 copies bound with one of the original-cupperplates by Inge Jastram. sold out
© by Edition and Rare Bookstore Frank Albrecht | Imprint